Commercial Roofing Repair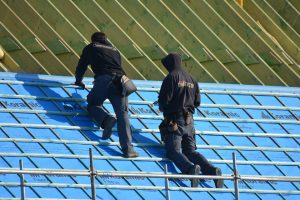 Roofing Repair for Business Lexington KY
You have a business to run - the last thing you need to worry about is a leaky roof damaging the interior of your office or commercial property. You need a local, trusted roofing contractor to restore your commercial roof to working order who is committed to quality and giving your business the best deal possible. Look no further than Lexington Roofing & Remodeling! We are Lexington, KY's commercial roof repair experts, and we are here to serve you.
Commercial Roofers You Can Trust
As fellow business owners, we understand how important it is for your roofing not to become a distraction. When we perform roof repair for your business, we will make sure your repair is done right the first time, that work is completed when we say it will be, and that you won't have to worry about it anymore moving forward.
Every commercial roof repair we perform is guaranteed and comes backed by our warranty. Our work also isn't finished until you are completely satisfied as our customer.
We are equipped to repair any type of roof - from EPDM roofing, to PVC roofing, to TPO roofing, to traditional shingle roofing. If we can help you today with a commercial roof repair, please contact our friendly commercial roofing contractors for a free assessment and quote today.
Call 859-518-8175