Residential Roof Repair Lexington KY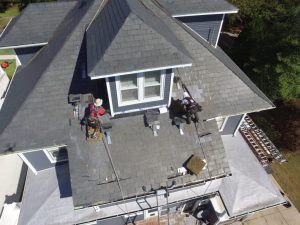 Roof Repair for Lexington Homeowners
Is your roof in Lexington in need of a little TLC? Did one of the recent storms that came through damage your roof? Have you noticed a roof leak? Are you seeing water spots in your ceiling? Are you gutters sagging? Are you missing shingles?
Please give us call at Lexington Roofing & Remodeling. We would love to handle your roof repair for you and take care of all your roofing needs.
We are professional roofers in Kentucky who understand the level of trust you're placing in us to take care of your property and to do the job right the first time. That's why we use only the highest quality materials for all our residential roof repairs in Lexington, and we guarantee our work along with your satisfaction.
Quality Residential Roofing Contractors in Kentucky
Lexington Roofing & Remodeling is made up of men and women in and around the Lexington area who take pride in a job well done and who are committed to helping you protect your investment.
We will treat your property with the same care and concern we would treat the property of our own families, and will make sure your roof repair is carried out according to the highest standards of quality available. If you aren't completely satisfied with our work, we will make it right. Customer satisfaction is guaranteed 100% of the time.
If you are in need of residential roof repair in Lexington, please give us a call at 859-518-8175
We would love to serve you today and meet all your roofing needs in Kentucky.