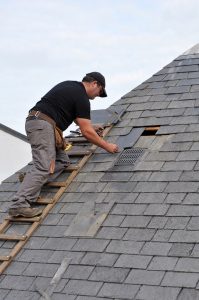 Professional Roof Repair
Is your roof leaking in Lexington? Do yourself a favor, and do NOT wait. Give us a call today and let us take a look and help you develop a plan for Roof Repair.
A roof leak is not a problem that will get better with time - just the opposite. The longer you wait to have your roof repaired in Lexington, the more time water will damage the interior space of your home or office. What could have been a simple fix will turn into thousands of dollars worth of costly repairs and remodeling if water is given enough time to wreak havoc inside your space.
If you're in need of Roof Repair in Lexington, please call us immediately at 859-518-8175
Roof Leak Fix in Kentucky
Lexington Roofing & Remodeling is your best local source for professional roof repairs in Lexington. Our experienced roofing contractors have decades of experience fixing roof leaks, replacing shingles, repairing gutters, and doing what it takes to make sure your roof is leak proof and functioning as it should.
We provide free consultations and quotes before we swing a hammer. When you hire us to fix your roof in Lexington, there will be no surprises when it comes to pricing or what you're getting.
Our business is built on trust. The philosophy we operate from is that we're only as good as our last job. That's why when we work for you, you can count on us to do a great job from start to finish.
The staff at Lexington Roofing & Remodeling is courteous and professional. We believe in a drug-free work environment, and each employee is a thoroughly vetted and experienced roofers.
When you hire us, you're hiring trusted Lexington Roofers you can count on to fix your roof or build you a new roof to your complete satisfaction. In fact, we guarantee it!
Give us a call for a free quote at 859-518-8175