Flat Roof Installation, Flat Roof Repair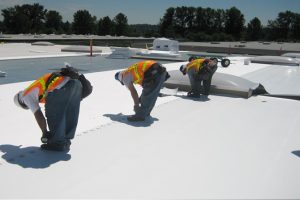 Flat Roofing Contractors Lexington KY
In the market for a new Flat Roof Installation in Lexington? How about Flat Roof repair? Lexington Roofing & Remodeling are the areas foremost experts for flat roof installation, flat roof repair, commercial roofing repair, flat roof replacement, and flat roofing restoration.
We offer a variety of options for flat roof installations in Lexington.
PVC Flat Roofing is made from a durable flexible material that holds up well against the elements and is an ideal commercial roofing solution for businesses and commercial properties in Lexington.
TPO Flat Roofing, aka thermoplastic polyolefin, is a lightweight affordable material that is a popular option for commercial roofing customers because of its low maintenance and durable makeup.
EPDM Flat Roofs are coated in a rubber membrane providing protection from moisture and high temperatures. EPDM is also impact resistant holding up well against hail damage - a good investment for customers seeking to save money on storm damage repair down the road.
Flat Roof Lexington KY
Other roofing options are available - just give our friendly commercial roofing contractors a call. We will take a look at your commercial building, give you our best suggestions, and come up with a plan with you to get you fixed up, regardless of whether you need flat roof repair or you're interested in hiring us for a new flat roof installation.
Gives us a call for service on your flat roof, or new installation of a flat roof in Lexington.
Call 859-518-8175